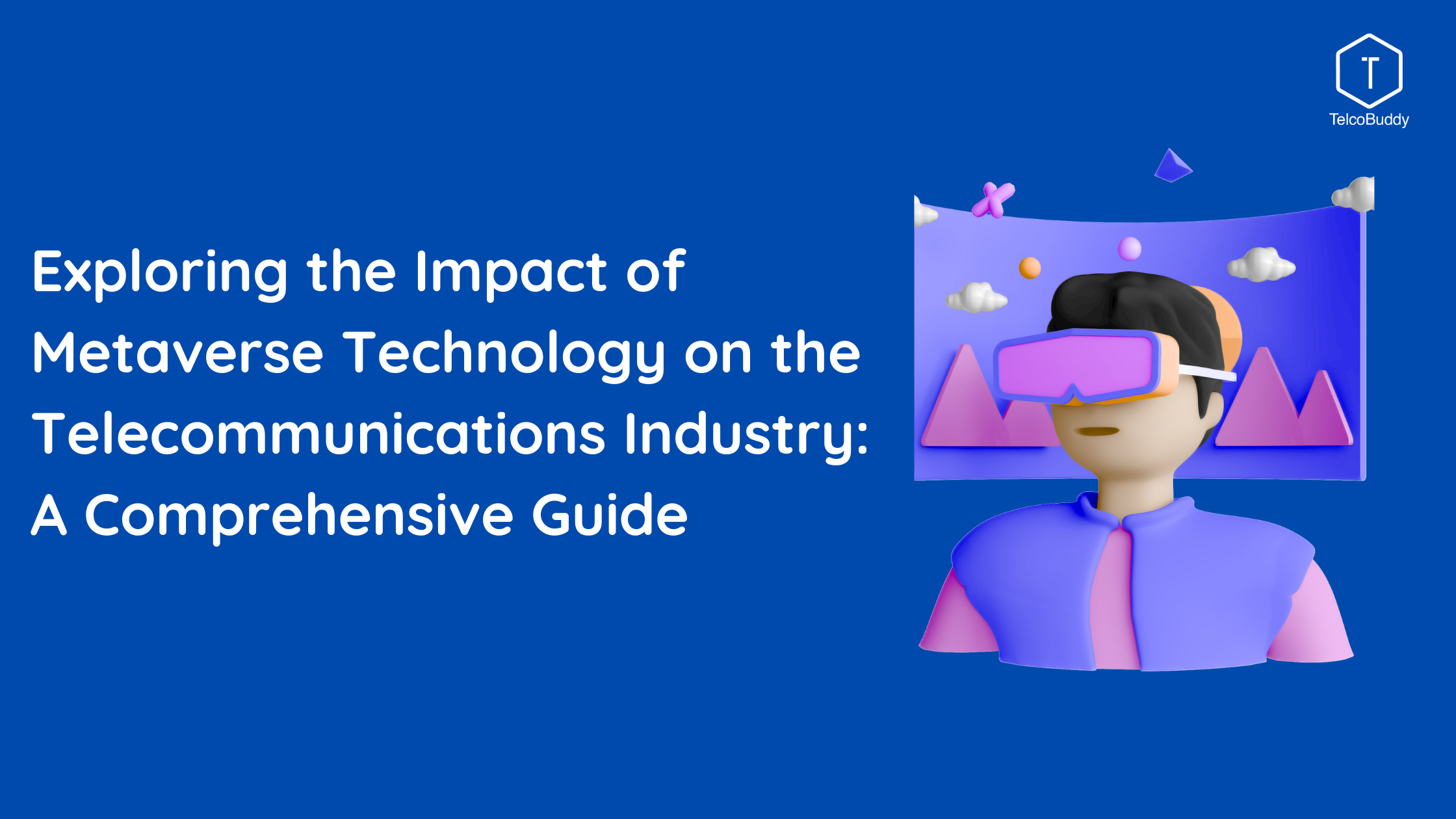 Exploring the Impact of Metaverse Technology on the Telecommunications Industry: A Comprehensive Guide
Metaverse will apply across all aspects of a CSP's business: from consumer to worker and across the entire enterprise; from reality to virtual and back; from 2D to 3D; and from the cloud and artificial intelligence to extended reality, blockchain, digital twins, edge technologies, and beyond- Accenture

76% of CSPs said they see significant opportunities for customer experience in the metaverse- Accenture

Some early-adopter telecommunications companies are experimenting with projects and modules to explore the potential of Metaverse-based services

For example

Nova Labs and T-Mobile teamed up for Helium Mobile, "the world's first crypto-powered mobile service that will enable subscribers to earn crypto rewards for using the network while saving money." This collaboration provides Helium Mobile subscribers with access to the Helium 5G crowdsourced network and the T-Mobile 5G network throughout the United States

KDDI and Netflix partnered to create a virtual city with a digital twin of the Shibuya ward in Tokyo to promote the Netflix series Ghost in the Shell. This virtual space has seen more than 1 million visitors.
Few Use Cases of Metaverse in the Telecom Sector
Customer Engagement:

-Telecoms can use the Metaverse to provide virtual customer support. Customers can engage with support reps in a virtual environment, enhancing the experience and fostering brand loyalty for CSPs.

-CSPs can enable customers to create custom digital avatars to express themselves creatively.

-Use of digital avatars offers a more immersive and interactive experience, new opportunities for social connections, gaming, and entertainment

Personalized Services

Metaverse provides unique opportunities for CSPs to offer highly personalized experiences to their customers. Using ML and AI, CSPs can gain customer behavior insights for hyper-targeting with personalized offers such as customized plans, value-added services, real-time recommendations, discounts, reward points, gaming plans, etc.

Gaming

Communication Service Providers (CSPs) can offer gaming plans specifically designed for users of the Oculus platform. The gaming plans provide high-quality and seamless gaming experiences, with bundle deals including games, or unlimited broadband or data plan subscriptions.

Customer Education

CSPs can provide customers with tutorials and guides to help them navigate the metaverse and understand its features and capabilities. CSPs can offer personalized support- customers can interact with virtual customer service representatives, and get instant support.

A virtual customer office enables CSPs to reach a wider base, including those unable to visit a physical location. This can help improve customer satisfaction and reduce customer churn.

Employment Education

CSPs are offering training and development programs to educate their employees on metaverse technology. These programs include online courses, workshops, boot camps, or traditional classroom training and cover topics such as virtual reality, 3D modeling, network administration, data security, and more.
Metaverse Telecom Projects
Vodafone Qatar launched, the "Together We Can" campaign for the first time in the Metaverse, to deliver a superior virtual experience for football fans both locally in Qatar and globally, during a tournament. Hayya Card Offers Free Unlimited Internet via 5G, Fan SIMs, and Roaming Services for an enhanced fan experience

SK Telecommunications, a South Korean telecommunications company has been active in the Metaverse space in 49 countries through:

-its ifland metaverse platform, which allows users to meet in virtual spaces and use customizable avatars and virtual items. It offers social interaction, eCommerce services, entertainment, virtual employment, and business opportunities.

-T-Universe" offers subscribers access to third-party products and services from major brands like Microsoft and Starbucks.

-An AI agent, NUGU, sells and supports all services and experiences across SKT and its T Universe partners
Opportunities for CSPs in the Metaverse
The communications industry holds a unique position regarding the metaverse— namely, Communication Service Providers (CSPs) build and maintain the advanced networks that are necessary for it to function. Given this positioning, there is an opportunity for CSPs to seize the once-in-a-generation wave of growth the metaverse offers- Accenture

-It offers new business models like personalized advertising, upselling, and cross-selling, and can be used as a marketing channel for VR, subscriptions, and custom services by telecom providers and partners.

-Telecoms can enable virtual commerce, allowing users to make purchases and conduct transactions using their mobile devices.

-CSPs can explore new revenue streams by creating immersive experiences and games in the Metaverse. For instance, they can offer premium subscriptions or charge customers for access to premium content and virtual experiences.

- It offers telecoms a new frontier for innovation, service expansion, revenue generation, and growth opportunities.
How should telcos prepare for Metaverse?
CSPs can prepare for Metaverse services by building an engagement system aligned with Metaverse principles

1. Embeddable Digital Avatars/digital humans

2. Voice Bots based on domain-specific NLU/NLP, ASR & TTS

3. Omni digital wallet capable of handling multiple payment rails

4. System of engagement with real-time personalized recommendations