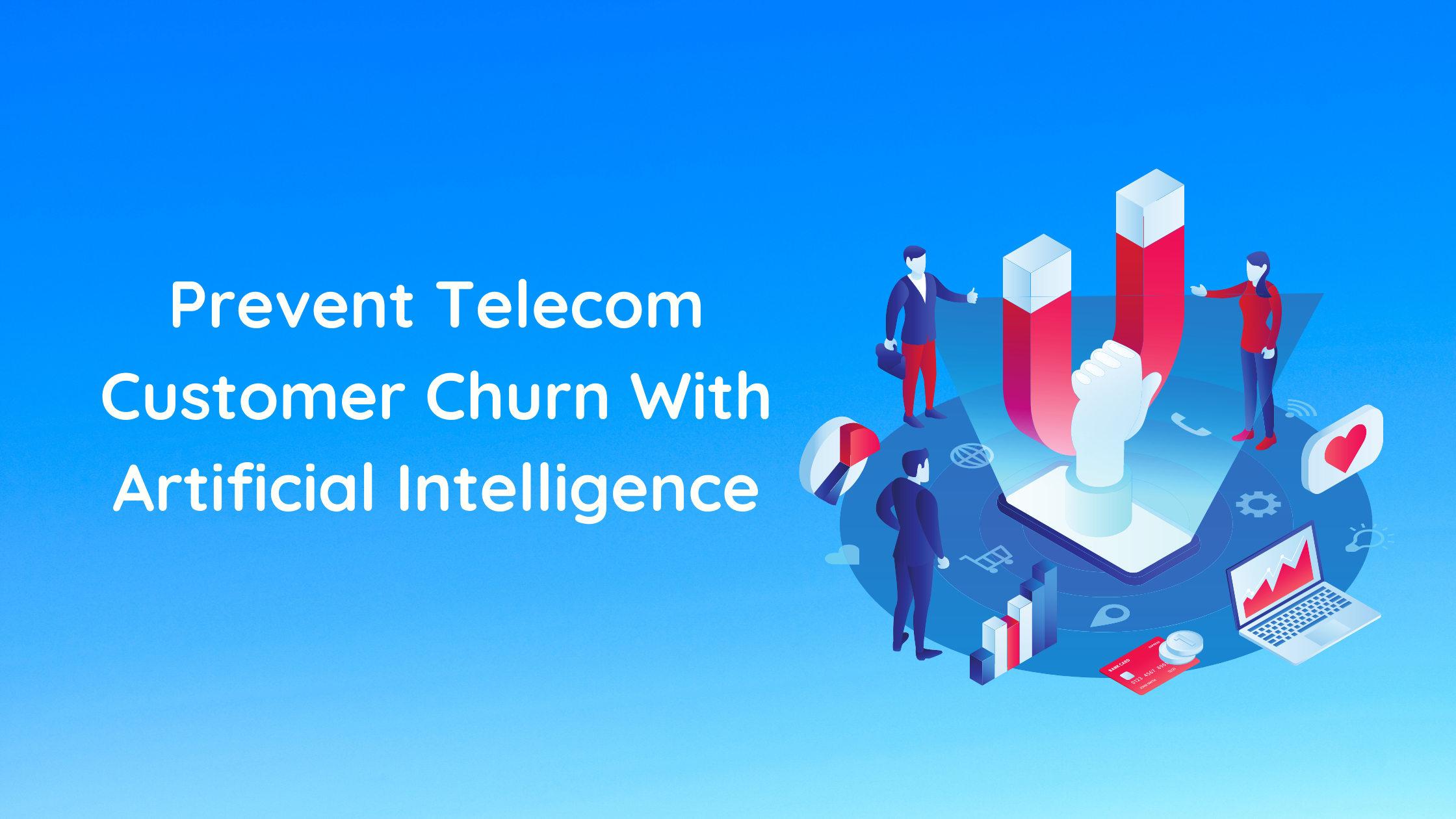 Prevent Telecom Customer Churn With Artificial Intelligence
Churn is an issue of major concern for communication service providers around the world. According to a recent report, carriers lose $65 million per month from churn.

Data suggests that the cost of acquiring a new customer is 5X times more than retaining an existing one. The average revenue per user (ARPU) is much higher for existing customers who contribute more than 70% to overall revenues when compared to new customers.
"How can telecoms identify "at-risk customers" and "prevent" customer churn before it happens?"
First, let's look at the identification of "at-risk customers". A good starting point is to analyze the churn rate/Dormancy data for the last 3-5 years.

Is the annual churn rate under 10%, 20%, or more?

What's the churn trigger/pattern e.g. Connection inactivity?

Is a particular product/service skewing the attrition rate e.g. a co-branded credit card?

Is churn concentrated in a particular segment e.g. Prepaid customers?

Consumer behavior is complex and there are multiple patterns involved in the accurate identification of micro-level parameters which lead to the identification of "at-risk customers".
Is analyzing the customer churn data and having a reactive approach enough in 2021?
While there are plenty of churn analysis systems based on statistical models like RFM (recency, frequency, monetary), logistic regression, etc., where human intervention may or may not happen at the right time, predicting and preventing customer churn should happen simultaneously for real proactive retention.
Predicting churn is not enough to prevent churn.
It's time to move to Insight based action using predictive models that help you predict the churn risk/risk of dormancy at the individual customer level and take proactive action to prevent churn.
"According to a recent Mckinsey study, a comprehensive, analytics-driven approach towards customer engagement and personalization can help telecom companies reduce churn by as much as 40%. "
How can you leverage Comprehensive AI for automated churn prevention?
For effective churn prevention, you need to truly "understand" your customer, "identify" their customer journey, and "predict" best action for that micro-moment.

AI can be used to create an in-depth view of each customer based on all available customer data, including their service usage patterns, data consumption, plan preferences and more. Using this information it becomes possible to provide customized offers and micro-targeted, truly personalized recommendations to each customer, through their preferred channels.

Comprehensive AI acts as a glue to help telecoms create a holistic view of each customer, accurately pinpoint the underlying causes of customer churn across various touchpoints, products, segments, behaviors, demographics, geographies et al.
Let's see the three pillars of AI for churn prevention for communication service providers:
Dynamic Customer persona: Machine learning models and big data analytics can help create dynamic customer personas and perform real-time peer persona mapping to identify customers showing behavior similar to those who churned in the past. AI can predict churn-like events by learning from patterns in customer switching behavior even before an at-risk customer starts showing signs of attrition, and use reinforcement learning to enhance the ML model with the result of the recommendation set.

Sentiment analysis: Sentiments are mainly inferred from the vast unstructured data points collected from customer interactions at various touchpoints e.g. call center logs. Identifying the "unhappy/frustrated" customer signs and proactively moving them in priority and offering them hyper-personalized recommendations can help turn them around.

Customer behavior pattern analysis: CSPs can leverage AI to analyze vast amounts of structured & unstructured data of their customers including data usage patterns, Voice call durations, Add on purchases, Device/channel preferences and more to identify service usage patterns. These customer behavior patterns are used to reveal any unusual customer behaviors, early-warning signs, and automate NBA (Next Best Action) and personalized offers.
Success story
Proactive service - Delight "at-risk" customers with automatically upgraded service across channels e.g. Call/Chat routing based on priority
Personalized offers - Leverage hyper-personalized offers for own and third-party products to increase the relationship value e.g. offers on mobile phones to a tech savvy customer
Human-in-the-loop –Seamless bot to agent handoff to engage customers to prevent attrition during complex issues.
TelcoBuddy offers an end to end proactive management of customer lifecycle journey by automating proactive streaming recommendations for in-the-moment customer engagement.
With a strong domain-specific cognitive model, TelcoBuddy equips you to leverage AI and behavioral analytics to accurately predict and prevent churn by offering hyper-personalized experiences to your at-risk customers.
Contact us to know more on how you can make the shift from reactive to proactive retention with AI and machine learning!