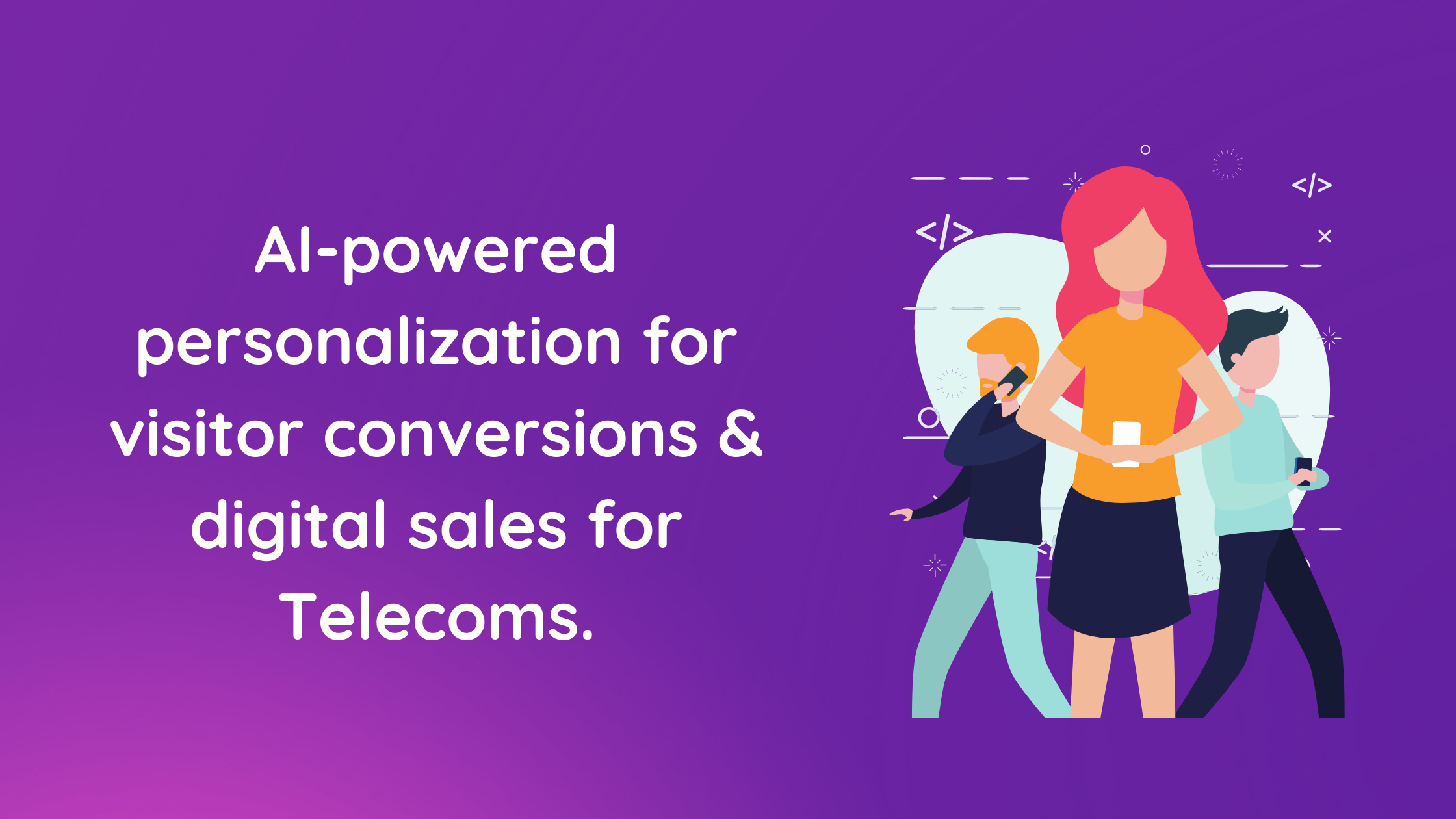 AI powered personalization to boost digital sales for Telecoms
"48% of customers abandon the purchase process when the company does not personalize the experience" – Accenture
How can Communication service providers (CSPs) increase digital sales and strategically boost their onsite conversions by using Artificial Intelligence for personalization?

AI applications can help Telecoms drive higher digital sales across all digital channels with micro-targeted cross-sell up-sell & hyper-personalized offers for own and partner ecosystem products.

According to Mckinsey, Digital sales in Telecom help boost customer lead conversion rates with 50 - 165% improvement.

TelcoBuddy helps you digitally convert prospects with relevant recommendations & increase revenues with automated 'Lead Lifecycle Management' & customer persona-based targeted campaigns for own and partner products across channels.
How do we do it?
TelcoBuddy enables CSPs to move from static content to dynamic customer journeys to boost new anonymous visitor conversions. This is done by leveraging AI & peer persona mapping using 35+ attributes like clickstream analysis, location, device, browser, digital footprint, etc.
Personalize visits for Anonymous visitors for higher conversions:
Analyze the aggregate customer clickstream data using machine learning, to identify patterns in visitor behavior and offer real-time streaming recommendations & dynamic offers. Collect lead data for intelligent engagement via targeted digital campaigns & boost conversions in the zeroth session.
Give relevant suggestions to returning visitors
Maximize engagement opportunities by mapping user affinity and help returning users pick up where they left off to shorten the time spent on restarting the discovery experience. Use Machine learning to predict the propensity to buy based on previous interaction history and dynamically paint the page layout & static content e.g. banners. pop-ups etc. to display relevant plans and products.

Craft intelligent digital journey based on customer persona & direct the users to a digital assistant for specific queries and offer 'in-chat' recommendations with CTA for higher conversions.
Omni-digital & multilingual customer engagement for enhanced Digital CX
Personalize visitor interactions by interacting in the language that he/she is comfortable with. Backed with NLP and a unique polyglot model, TelcoBuddy drives human-like interactions enabling users to interact using local dialects, slangs, abbreviations and including a mix of languages.

Enable visitors to seamlessly shift between channels while making purchases, activate or deactivate services and complete transactions across channels including voice, chat, web, mobile, WhatsApp, Facebook, Google Assistant, Alexa, and more.

Increase conversions with personalisation, self-service onboarding with - document upload & eKYC for a truly digital experience across channels & languages.