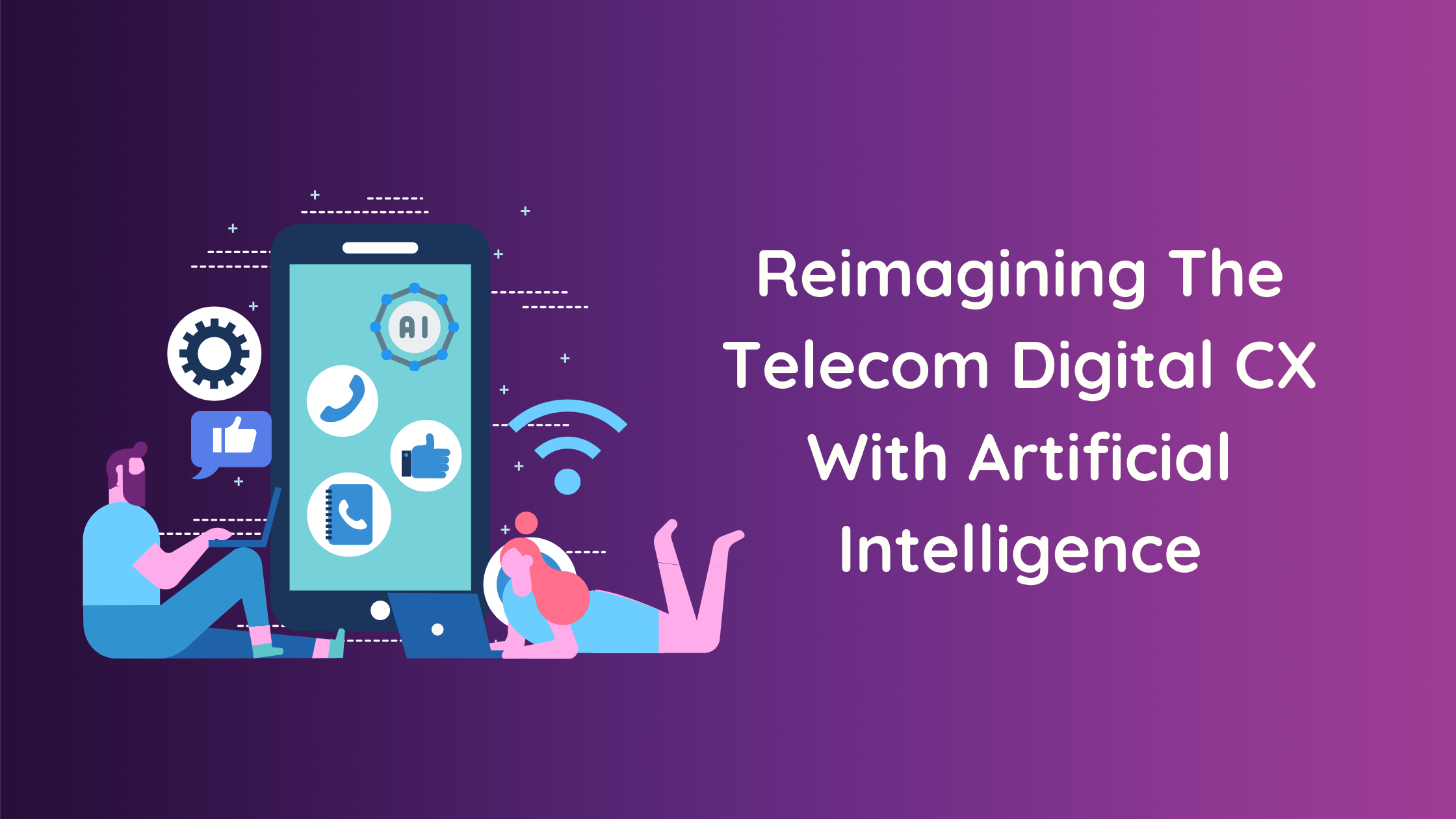 Reimagining the telecom digital CX with Artificial intelligence
According to recent studies, clearly designed digital customer journeys can help telecoms achieve 3.4X conversions -Mckinsey

While some CSPs have deployed AI-based automation solutions, most telecom self-service channels work in silos even today. They lack the ability to understand customer intents, complete simple transactions, or transfer conversation context without breaking customer journeys as users shift between channels.

How can telecoms deliver complete, non-siloed customer journeys to transform their digital customer experience?

The answer lies in leveraging AI-powered digitization to automate & personalize telecom customer journeys to offer end-to-end transactions across channels and languages.

TelcoBuddy cognitive CX platform uses composite AI to help telecoms deliver enhanced customer experiences with self-service automation at scale, enhancing customer engagement, boosting revenue generation & reducing costs.
Account services
End-to-end account services– Check balance, bill payments, activate/ deactivate services, new plans/ bundles purchases, add-ons, upgrade packages, etc. Personalized interactions with your existing customer with dynamic menus, real-time plan recommendations, and custom-made offers for enhanced digital experience.
Transfers and payments
Secure inbuilt transactions and payments with multi-factor authentication. Enable customers to instantly activate plans, transfer credit, and utility bill payments on the channel of their choice.
Digital wallets
Enable private label wallet service, with secure digital payments, to foster financial inclusion and drive new customer acquisition. Offer a flexible and convenient payment solution across all your customer's favorite channels including WhatsApp, Facebook, Twitter, and more.
Self-service Customer support
Increase call deflection cut down support costs and reduce the load on call centers by automating customer support.

Offer seamless agent handoff with skill-based routing to assist customers with complex issues, thereby improving FCR & customer satisfaction scores manifold.
Complaint management
Enable customers to easily lodge complaints, raise tickets and track status & submit feedback anywhere anytime. Offer proactive issue resolution by identifying possible issues based on customer attributes like- location, connection inactivity, excessive data usage, etc.
Customer onboarding & eKYC
Remote new customer acquisition under 3 minutes with guided process flows Leverage OCR, machine vision, and AI-powered customer authentication with data extraction, image and speech verification with liveness detection to digitally onboard new customers, enable SIM purchases online, and offer instant new plan/ service activation.

Reduce new customer acquisition costs with no dependency on physical channels, distributor networks, and manual documentation.

Go live in 4 weeks with flexible deployment options and end-to-end ecosystem and channel integrations. Connect with us for a personalized demo!